Hydro Seeding / Erosion Control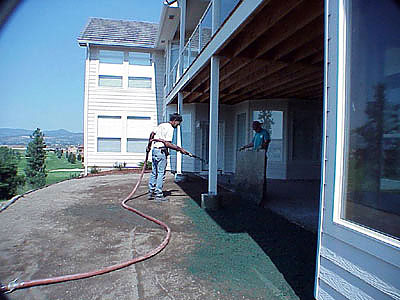 Hydroseeding is a cost-effective and efficient way to create lawns, native and wild flower areas. There are also many applications for erosion control.

You can have a high quality lawn without spending too much on sod. You read it right! You can do this by opting for hydroseeding. Hyroseeding is a quick and economical way to achieve a beautiful lawn by spending a fraction of the amount spent on sod. This method provides the seed the best environment for complete germination. Hydroseeding holds the seed firmly to the ground so soil erosion is prevented or minimized. It is also recommended if your property is located on a hill.

Our company can very well help you with hydroseeding and erosion control regardless if you are in Washington or Idaho. Our 25 years of experience in providing stunning landscape architecture and quality construction has been renowned in the state. There is no doubt that you can rely on our expertise when it comes to hydroseeding or soil erosion control.


What Is Hydroseeding?
Nowadays, hydroseeding is the most preferred method of planting commercial areas like parks, golf courses and school areas. An increasing number of residential property owners are also opting for this method. This is primarily because hydroseeding is proven to grow thick grass in a few weeks at an affordable cost. So far, no other method can match the benefits provided by this method. If you are still unconvinced on the advantages of hydroseeding, please check these facts:


Quick and easy spray application. The use of hydroseeding is simpler as compared to other methods like sod. When performed by professionals, superior results can be achieved even if it is done for the first time.
Thicker lawn with even growth. Sod may create gaps after application. But in hydroseeding, it will create even and consistent growth of seeds thus, giving your lawn a better covering.
Assures safety. The use of hydroseeding does not pose any harm to children, environment and pets.

Moreover, hydroseeding is commonly a mixture of seeds, fertilizer and mulches to improve the condition of the lawn. Through this method, achieving a lush green lawn has become an easy job.


What Is the Significance of Mulches for Erosion Control?
Mulches are considered one of the most effective way of controlling soil erosion or runoff. But this has to be applied correctly to ensure that it can effectively fulfill its purpose.

One of the advantages of applying mulches for erosion control is the stabilization of soil during and after alteration activities on land. This also insulates the soil, hinders weed growth, and reduces evaporation. Mulches also protect the surface of the soil from the forces of overland flow and raindrop impact.


Turn to Hydroseeding and Soil Erosion Experts
When it comes to hydroseeding jobs, you can depend on the expertise of Haase Landscape Inc. We have all the necessary tools and equipment like hydroseeding machines. You have nothing to worry about even if your property is located in sloped areas, since we have the expertise in implementing effective erosion control methods.

Aside from mulches, we can also perform other erosion control measures in your landscape like the construction of retaining walls. Don't hesitate to contact us. We will help you create a lush lawn in just a short period of time and prevent any soil erosion threats in your property.

Click here to view photos »