Landscape Management
A well-maintained landscape is not only beautiful to look at, but also a smart way to increase the value of a property. This is the reason why most residential and commercial property owners look for companies who can provide total landscape management. Some of you may ask, "What is landscape management?" It is the process of supervising the design, construction and preservation of a landscaping project. Employing experts in managing your landscape will prevent the occurrence of the worst problems in the landscape.

Performing landscape management is complex. It requires both knowledge and expertise since it involves intricate and detailed craftsmanship. Therefore, if you want your landscape to look exceptional, you must hire the right people who will handle everything from conceptualization to maintenance.

Look no further because you have already found the right company who can take care of your landscape. Haase Landscape Inc. is renowned in Washington and Idaho for providing quality landscape design, construction and maintenance.


Our Landscape Management Program
Landscape management covers all work that has to be done in a landscape. These works start from taking care of the turf, to ornamental plants and to all other elements in the landscape. This is a complete landscaping service which does not only cover repair and maintenance but all aspects of creating and maintaining a beautiful landscape.

The usual tasks included in our landscape management program are as follows: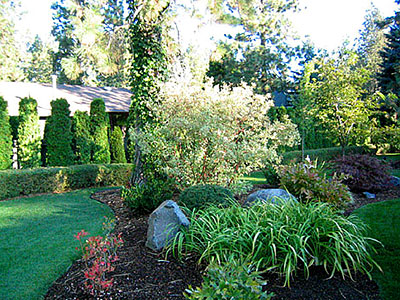 Management of plant growth. The turf and garden beds are the two components of landscapes that require the most attention to keep them in perfect shape. Mowing, trimming and pruning are some of the works that need to be done to maintain their beautiful look.


Application of fertilizers and soil treatment. Many landscapes are not self-sustaining. Hence, these should be provided with additional nutrients in the form of fertilizers that can come either in organic form or synthetic chemicals. We can also perform quality checks on your soil to ensure plants will grow healthy.


Installing and Maintaining Irrigation System. Yards and gardens should receive adequate amount of water. This can be done by adding efficient irrigation systems. A properly installed and working drainage system will also ensure that excess water will be properly drained.


Pest and Weed Control. Perfection cannot be achieved in a landscape if insects and plant diseases will not be controlled. Our experts will ensure that the chemicals used in pest and weed control are safe and environment friendly.


Snow removal. Winter months is the most challenging season when maintaining a landscape. Snow should be shoveled from sidewalks and driveways to maintain a functional environment. But in our landscape management service, we do not only remove snow from your property. We ensure that your landscape will be protected from any further damage caused by heavy snowfall.


ma These are only some of the important tasks covered in our complete landscape management program. We can add more depending on the needs of your landscape. If your landscape has water features and other hardscape elements that need expert care, please let us know. We will devise a landscape management program that will perfectly suit your needs.


Our Assurance
For more than two decades, Haase Landscape Inc. remains highly committed to keep the landscapes of different property owners in the state of Washington and Idaho in perfect shape.

Making every landscape bloom the whole year round is our assurance to all clients. With our carefully planned and detailed landscape management program, not a single sign of dullness will be seen in your property.