Landscape & Hardscape Services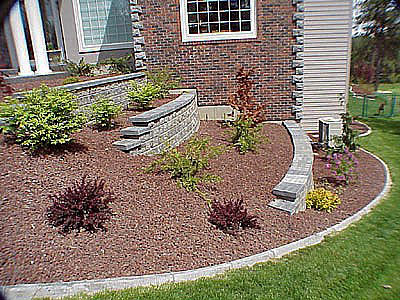 Haase Landscape, Inc, is a full service landscape architecture and construction company that provides services to clients in and around the Coeur d' Alene/Spokane area. We have over 25 years of experience under our belt and make sure that the services we provide meet the specific needs of our clients. We know what it takes to provide clients with high grade services such as:


Landscape Architecture
Landscape architecture is different than landscape design and involves creating functional and resilient outdoor spaces that will be durable and easy to maintain. While we do focus on aesthetics, our landscape architects will survey the available space to experience the entire area. They will take several different aspects into account to create designs and plans that will enhance the overall feel of the landscape. We are extremely professional in our approach to designing and planning perfect landscapes for clients and always make sure that we keep their ideas in view at all times. Read More About Landscape Architecture »


Landscape Construction
Once you approve the landscape design, it also becomes very necessary to make sure that the construction of all the features is carried out as per plan. A landscape will only be resilient and durable as well as sustainable if high-quality materials are usedin the work. We also have highly experienced technicians and installers that handle every aspect of the landscape build project to industry standards. We make sure that the landscape construction job is completed meticulously within the specified time frame and in line with the plans that have been approved at the start of the project. Read More About Landscape Construction »


Pavers
Paving stones are an integral aspect of most landscapes. These units are extremely versatile and can be usedin several different installations such as driveways, walkways, pathways, patios, and decks as well as poolscapes. We have designed and installed entryways, courtyards as well as fire feature zones and more using stone, brick, and concrete pavers. A large number of paver products are available on the market, and we provide you with detailed information about these which helps you make better decisions about the type of paving you want. We handle the installation to industry standards and make sure that your paved areas are resilient and durable. Read More About Pavers »


Retaining Walls
If you have sloping land on your property or are facing soil erosion problems, retaining walls can be constructed in the areas to provide support to the landscape. We use high-quality concrete masonry blocks in the construction of retaining walls. Specially engineered walls can be custom-designed to meet your needs and budget. You will find that there are a large number of retaining wall blocks available and you can choose from different varieties to create the aesthetic and overall look that you want on your property. Retaining wall construction is a specialized job that we can handle to the highest quality standards. Read More About Retaining Walls »


Outdoor Living
Creating beautiful outdoor spaces is a lot about making sure that you choose the right features and get them installed by experts like the ones at our company. We offer excellent outdoor living design and installation solutions, which include patio and deck construction. We also offer fireplace and fire feature installations to create comfortable and welcoming leisure zones in the outdoor areas of your property. Our company uses exterior grade materials in the construction and you can choose from various custom-designed outdoor living features. This approach helps ensure that you get yard areas that are designed to be functional and aesthetically appealing. Read More About Outdoor Living »


Outdoor Kitchens & Fireplace
Installing an outdoor kitchen and fireplace is one of the best ways to increase the functionality of your outdoor spaces. Since these features are exposed to the elements, it's necessary to use good quality materials and workmanship,which is exactly what we can provide. We provide custom outdoor kitchen plans and can install fireplaces of different shapes and sizes as per your requirement. When we handle outdoor kitchen design and installation for you, every aspect of the project will be completed in line with your needs and will suit your lifestyle requirements so that you get a good return on investment. Read More About Outdoor Kitchens & Fireplaces »


Sprinklers & Irrigation
No matter what the size of your landscape is, if you have plantings, trees, and lawns, you would need an irrigation system. There are different types of products available on the market, and automatic sprinklers can be installed to provide the right amount of water to the lawn areas on your property. We also install drip irrigation systems and soaker hoses in various areas of the landscape to make sure that all of your plantings are watered at the pre-determined schedules. We always use high quality products such as the ones manufactured by Rain Bird, and you can rest assured that the job will be completed to industry standards. Read More About Sprinklers & Irrigation »


Hydro Seeding/Erosion Control
Nowadays, hydroseeding is a highly preferred method of installing grass on commercial areas such as parks and golf courses. But an increasing number of homeowners are now opting for this method. Hydroseeding is proven to grow lush grass within a few weeks at a very affordable cost. We also help with erosion control by installing different types of mulches in specific areas of a property. These mulches help retain the moisture in the soil and are extremely effective in preventing soil erosion. Mulches also help improve the aesthetics of the outdoor areas of your home or commercial establishment. Read More About Hydro Seeding/Erosion Control »


Landscape Management
Having a great landscape is only one aspect, and you need to make sure that it's managed well too. We are a company that provides all-round services, including landscape management. As part of these services, we provide excellent hardscape and softscape management services and make sure that all of the features are maintained with regularity. Our team is highly experienced and ensures that all of the features and installations get the kind of attention they need. This also means the elements will be in good shape and last for a longer period, which increases the value of your property as well. Read More About Landscape Management »


Maintenance Programs
Since every property is different and will have different types of features and installations, we make it a point to customize maintenance programs for our clients. We take into account their specific needs and make sure that every installation in the outdoor space is included in the landscape care program. We use the best materials in our work and make sure that highly experienced professionals handle the actual installations. This helps ensure the longevity of the features and the sustainability of the landscape. We also offer 24/7 emergency services for the convenience of our customers. Read More About Maintenance Programs »


Winter Services
We are a company that focuses on offering clients a gamut of landscaping and related solutions which include winter services. As part of these services we offer winter lighting solutions and will set up the lights and remove them after the holiday season too. Our company also offers custom snow removal and ice management services that meet our client's needs. We have the equipment, knowhow and the experience required to handle these jobs in the best possible way. Our team understands that having snow-free outdoor spaces is about making sure that they stay that way even during the winter months and our winter services help you do just that. Read More About Winter Services »

For any more information about our excellent landscaping services, feel free to contact Haase Landscape Inc. at 1-509-926-7950 or on this toll-free number - 1-888-707-7950. We assure you of the best and most cost-effective services at all times.

We use high grade materials in our work and make sure that every feature that we design and install for you is of the best quality and that you have stunning and resilient landscapes that are easy to maintain and sustainable too. You can also send us your queries through this online form and we will call you back to discuss your project details.