Sprinklers & Irrigation
Rainbird Select Contractor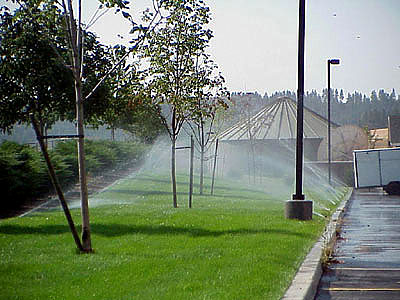 Our complete design, installation and maintenance programs will deliver trouble-free solutions to all of our lawn and landscape watering needs. The right amount of water at the right time - automatically! Well implemented water management for healthy plants and turf saves time and money.

No job is too small or too large, let us help make your lawn look healthy for years to come.

Haase Landscape Inc. does that by installing high-quality sprinklers and other irrigation systems either for residential or commercial use. Our team uses not just any sprinkler or irrigation, but only Rain Bird.


The Rain Bird Advantage
Rain Bird has been in the industry of making sprinklers and irrigation products since 1933. From its beginning, it has been supplying a wide range of irrigation products for homes, commercial spaces, sports arenas, golf courses, and even farms. Rain Bird is the top consumer choice worldwide, supplying high-quality products to over 130 countries.

No other company has the same amazing sprinklers and irrigation products as what Rain Bird is offering. It has over 130 patented products, making it the leader in the industry.

With more than 4,000 products to choose from, there is definitely a perfectly suited sprinkler or irrigation product for every imaginable landscape.

All of these fine qualities are what drove us to choose Rain Bird for all of our irrigation installation projects. We want to ensure quality and functionality every time – and we know that we can do that only when we have chosen the best product in the market.


Professional Installation of Sprinklers and Other Irrigation Systems
Using high-quality irrigation products is just half of what makes a perfect system. The other half is professional installation.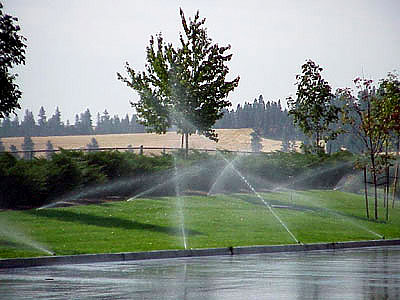 This is why Rain Bird does not recommend just any contractor out there. The contractor has to have the skills, experience, and professionalism to render quality service using Rain Bird's high-quality products. And Haase Landscape Inc. is proud to be one of the top recommended Rain Bird contractors. In fact, our company enjoys the prestigious Rain Bird Select Contractor Award for 2001.

We design the irrigation system so it will supply just enough water in a reasonable frequency. No more wasting of water for no good reason.

Rain Bird has 'The Intelligent Use of Water' trademark and we have the expertise to build just that kind of system. You will not just enjoy the stress-free maintenance of lawns and gardens, but also enjoy a more environmentally friendly way of doing it.


Sprinklers and Irrigation Maintenance
Like cars and computers, irrigation systems also need regular maintenance. It will be a shame to wait until the luscious, green turf has turned yellowish before you act. A pebble or a small leaf can cause a lot of trouble when it is trapped in the sensitive part of the irrigation system. There are more potential problems to a perfectly functional irrigation system, but all these can be prevented with wise maintenance.

Our team of experts can regularly visit your place for a timely tune-up or checking of the sprinklers and other parts of your irrigation system. Only through wise maintenance can you be assured that the system is working perfectly fine. This is especially important since repairing a badly broken system is much, much more expensive than doing a reasonable maintenance.

It is possible to enjoy healthy plants and green turfs without all the nasty effort. How? Just choose Haase Landscape Inc. for the installation of a high-quality irrigation system in your landscape and you'll never go wrong.

Click here to view photos »